The main frame and wheel hub of this twin wheels medical casters are made of reinforced PP. Its excellent oil resistance, wear resistance, and chemical resistance ensure the service life of the twin medical casters.
The wheel surface is made of noiseless TPU material, which is wear resistance weather resistance, fatigue resistance and temperature resistance, and also has an excellent shock absorption effect.
Two-wheel differential design to improve the flexibility of casters in-situ steering
The twin wheels medical casters are equipped with precision bearings, which effectively reduces noise and improves the overall smoothness of the casters. Suitable for all kinds of high-end furniture, widely used as medical chair casters and medical cart wheels.
Standard fastenings include Grip Ring and Threaded Stem. Top Plate models are available in select sizes.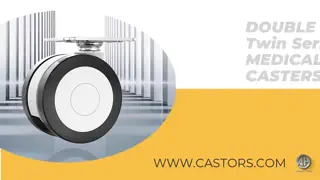 Weihang Caster Best Medical double twin caster Company - Weihang Caster,304 stainless steel casters, Anti-static castor, Conductive castor, Super heavy casters, Spring shock-absorbing caster and High temperature resistant casters